Insightful Management Leads King's Material into Steady Growth
---
How does a family business grow from delivering redi-mix concrete in the 1930s to creating unique, high end landscaping materials in the 21st century? King's Material of Cedar Rapids, Iowa, has done it by working hard, learning from mistakes, and knowing when to make big plays.
A huge part of King's success is their ability to build a contractor and dealer network. The project pictured above won an award for "Best Residential Application" at the 2015 Rosetta Producer Awards ceremony.
The decision to make wetcast: high margins
For Pat Sauter, General Manager of King's Material, April 2015 was the time for a big play. After nine years in leadership of his family's concrete manufacturing company, Sauter and his team decided that it was time to make Rosetta Hardscapes, a unique line of wet cast concrete landscaping products made to look like natural stone.
King's Material was already a diverse company. Not only had they been in the redi-mix concrete business since 1935, they operated several dry cast plants, and produced some precast items including large block retaining walls. And for many of their products, they are their own distributor. As Sauter puts it, "We sell brick and stone, and pavers and accessory items as well! Anything for the concrete contractor, masonry contractor, or landscape contractor is our focus."
With so many business functions to think about already, why make Rosetta?
It's pretty simple really. "Rosetta has the margins in it to be able to set up a network of dealers that are farther away, so it gets us into some markets that we've traditionally not had a whole lot of products to offer," Sauter explains. For King's, higher margins meant more flexibility to grow. And since the Rosetta business is scalable, that meant that they could growing their business one step at a time Rosetta Hardscapes products are unlike any other landscaping product and any other concrete product. They compete with natural stone in appearance, but they're significantly easier to install. This difference means bigger returns per cubic yard of concrete.
Confidence to invest
Sauter first heard about Rosetta wetcast hardscape products from an industry association trade show. After distributing part of the product line for nearly five years, Sauter made the decision to partner as a licensee with an exclusive manufacturing territory. During their time as distributors, Sauter and the King's team grew in confidence that they could sell enough product to justify an investment in forms and equipment.
Once Sauter felt satisfied that they could sell high end, garden retaining wall blocks, pavers, and fire pit kits to their market, he began considering ways to develop what would become their wet cast production business. When the opportunity arose to purchase a competitor's dry cast plant, he saw their move. "We had Rosetta in the back of our mind before we even closed the deal on the competitor's plant," he said. The next step was to convert that plant from dry cast to wet cast.
Building out the new business unit
Sauter explained that the process of switching a plant from dry cast to wet cast was not without its challenges. But in the end he concluded, "We're pretty proud of the product we were making all last year… We knew it was a learning curve we were getting into." The King's team embraced the learning curve and jumped into Rosetta production with two feet.
While the King's production department was learning to make Rosetta, the sales crew was being trained to sell it. "Having the Rosetta team available to help train our sales staff and get the contractors comfortable installing the products has been very helpful." According to Sauter, the sales team was able to adapt to selling the product relatively quickly. "They love it - it's a pretty easy sell," he said.
Sauter felt especially comfortable with the training that his teams were receiving knowing that it was coming from a group with first hand experience. He explained, "What gave us a comfort level moving forward with Rosetta is the fact that they have their own plant and are actually manufacturing the product before we're getting into doing it. That was a big thing for us."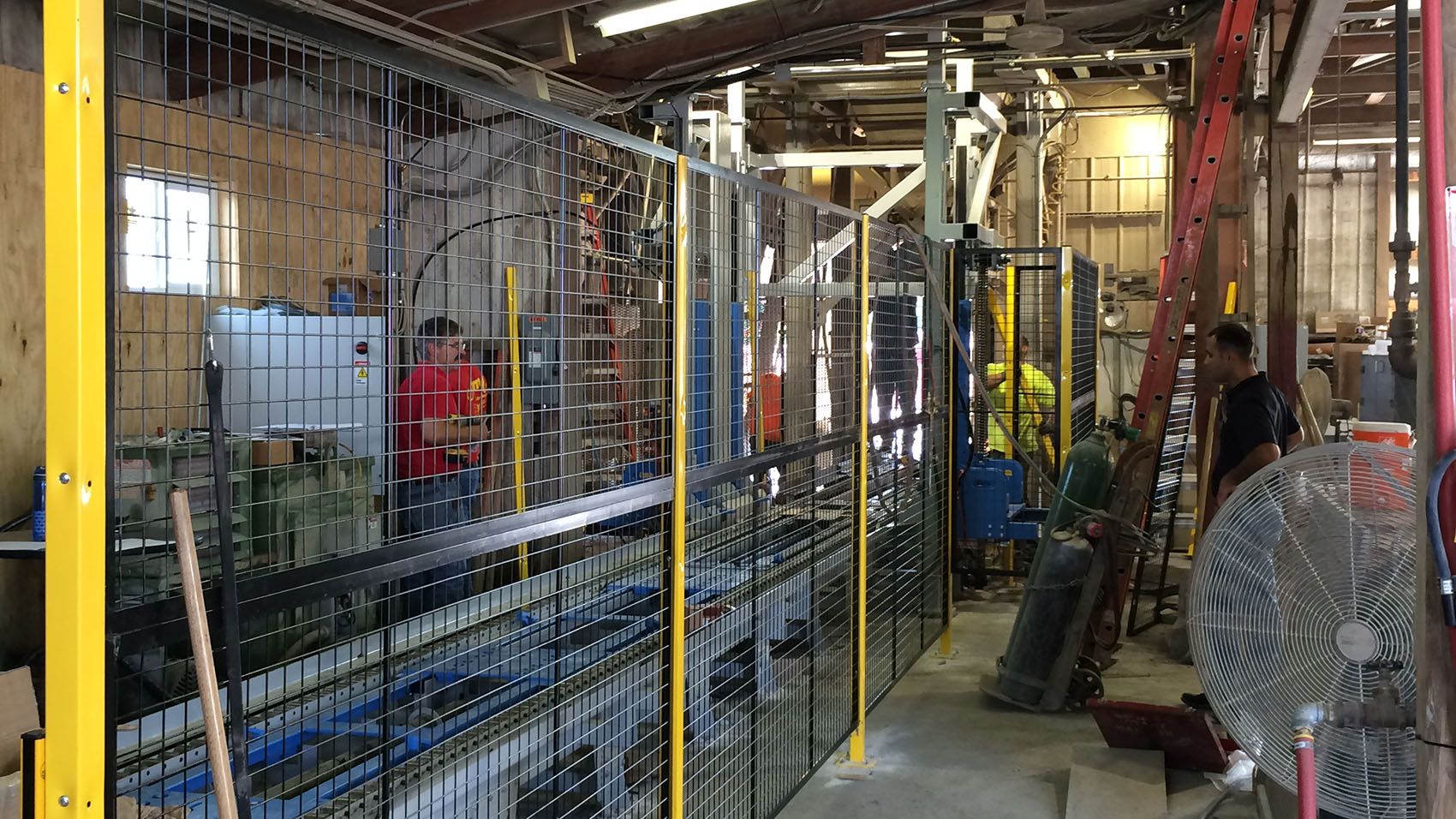 King's decided to add on to their Automacad production line earlier than anticipated in order to increase their capacity to supply large projects. The line additions, pictured above, were added in August 2016, just one year after becoming a Rosetta producer.
Setting up the dealer network
One key to growing the Rosetta product line has been developing a dealer network that includes retailers beyond their own King's Material locations. By year two of Rosetta production, Sauter's sales team was working with around 15 independent hardscapes dealers in addition to 6 of their own. Dealer service is championed by one key leader of the King's sales team, CJ DeMeulenaere, who makes sure that dealers are set up for success with displays, inventory, and marketing materials.
Rosetta also provided King's with comprehensive technical support during their first year of production. The Rosetta tech department walked their sales team through the Outcropping wall sketcher program job by job, and worked with them to help their customers feel comfortable with the large retaining wall block collection. King's was able to bid and land 35 Outcropping jobs alone in their first year - an impressive launch for a new product line.
Scaling the line and growing over time
With a committed sales team and a trained production staff, King's Rosetta business continues to grow - and that was Sauter's plan all along. He explains, "We were attracted to Rosetta and the Automacad equipment because it was scalable. Last year we were working through our production system and workflow. By the spring we felt comfortable with it and had some extra capacity so we added additional molds." Now King's is adding both a stacker and indexing line to their production process, taking quality and efficiency to the next level.
For Sauter, making Rosetta is a step towards his ongoing goal to steadily grow King's Material in the concrete, landscaping, and masonry industry. "We're trying to control our own destiny a little more with more products that we can actually manufacture." King's continues to grow, with plans to continue expanding their Rosetta operations in the coming years.
Visit King's Website